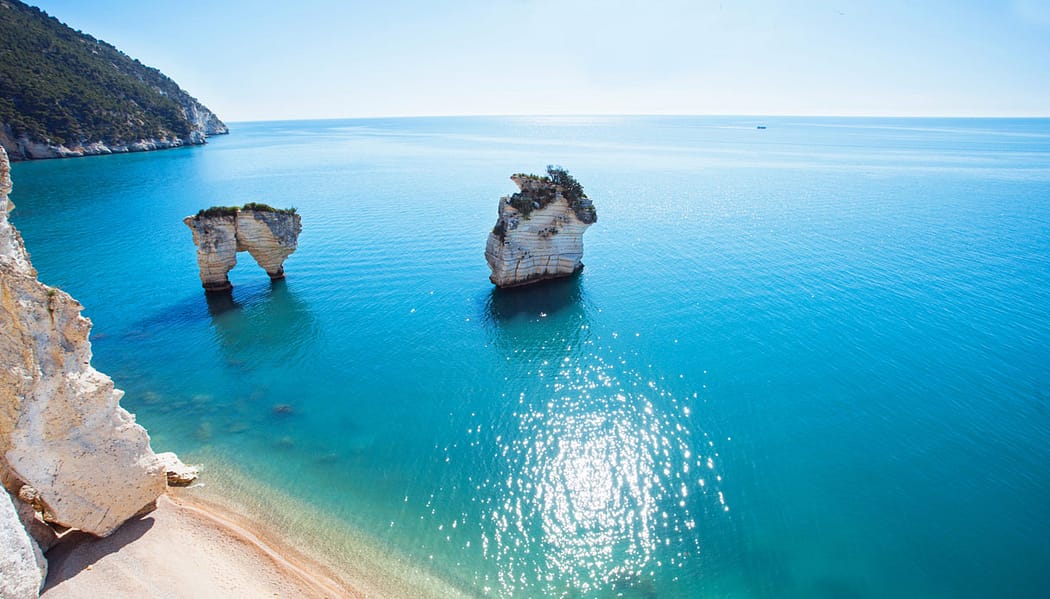 Mattinata, called the  " Gargano Butterfly"  , is located inside the  Gargano National Park , in  the Gulf of Manfredonia. For the quality of its bathing waters, it has been repeatedly awarded the  Blue Flag by the Foundation for Environmental Education , receiving 3 sails from the Legambiente Blue Guide in 2013.
In its territory 61 species of orchids can be found , some of which grow exclusively in the area, which are an attraction for botanical enthusiasts and scholars.
HistoryCosa GuardareCosa FareDove MangiareDove DormireCuriosità
Until the early 19th century, the name of the town was
Matinata
, which derives from the daunia tribe of 
Matinates ex Gargani
, that is, the "inhabitants of Matino coming from the Gargano ", as handed down by
Pliny the Elder
in the
Naturalis Historia
.
Subsequently  Claudius Ptolemy  in his  Theatrum geographicum  handed down the name Apeneste whose meaning in Greek is " that is born " or " that rises ", with clear reference to the position in which the village was located (ie to the east where the sun is born). It was built in the Agnuli area as a small emporium for trade between the Daunian populations (of Illyrian origin, precisely the Japigi , who had inhabited the entire Gargano since the end of the second millennium), who lived in Monte Saraceno , and the Greek navigators. The village has always had an agricultural vocation.
Following the Roman colonization of Apulia after the victory over Pirro in 275 BC, the village of Apeneste took the name of  Matinum, deriving from the goddess of the morning Mater Matuta , of which one can admire the finds of a Roman villa, Augustan, from characteristic walls in  opus raeticulatum , in the Agnuli district  near the tourist port of Mattinata. Following the Saracen raids, the village of Matinum was destroyed and later abandoned permanently. The current city center rises on the hills in front of the bay, which began to develop thanks to some mountain people who, due to the mild climate, "went down to the valley" (at regular flows) starting from the sixteenth century. For fifteen centuries the territory of Mattinata has always been a small fief of the Honor of Monte Sant'Angelo. The rich landowners of Monte and Manfredonia spent their holidays there like the ancient Romans. It was only in the 1950s that Mattinata from a hamlet became a small independent municipality.